LDSSG are proud to announce that Puddle Ducks have chosen us as their nominated charity this term.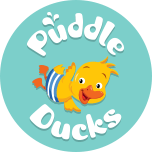 With fantastic support from their little swimmers and their families they hope to raise funds that will be used to benefit our members.
Please read on for more details
Pyjama week teaches our swimmers invaluable personal survival skills and raises money for charity; all while having lots of fun!
We are proud to support The Lincolnshire Downs Syndrome Support Group who support their members in their everyday living and new challenges the families may face,  facilitating members with specialist equipment and even supporting swimming lessons!
Here's what you need to know!
Your child (and yourself if you come in the pool) will need to wear PJs
We will be asking for voluntary donations of £2 per child
Or even better… we'd love your Puddle Duck to be sponsored for completing a personal survival lesson plan in their PJs.
The child who raises the most money will win a prize from Puddle Ducks Head Office.
You can download a sponsorship form here to get started
https://www2.puddleducks.com/materials/lincolnshire_pj_week_sponsorship_form.pdf
The How can I donate?
Please click on the link below
https://www.justgiving.com/crowdfunding/PuddleDucksLincolnshire
Thank you so much for your support
Puddle Ducks Lincolnshire