The LDSSG Committee would like to congratulate one of our members, Danielle Booth, on successfully completing the annual Lincoln 10km race in April 2017.
Not only did she complete it in an impressive time of 1 hour, 19 minutes and 18 seconds, she also raised a total if £746 for the group via her efforts!
This is a fantastic achievement by Danielle, and shows what hard work and determination can achieve.
Well done Danielle…keep on running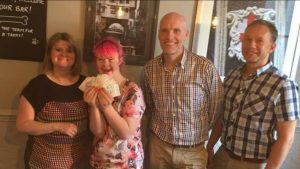 Danielle handing over the funds she raised to Eileen, Simon & Paul at our recent committee meeting!